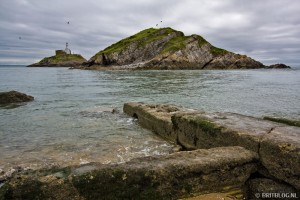 De Volvo Ocean Race komt dit jaar naar Cardiff, maar dat is niet de enige reden waar het The year of the Sea in Wales is. Bijna omringt door water is Wales een echt zee-lievend land. Woeste kliffen en brede zandbaaien; de zee verdiend een eigen jaar en dat is 2018. 
The Year of the Sea
Ben je van het sportieve leven? Ga dan wakeboarden, surfen, maak een ribtocht, bewandel het 1400 km lange kustpad of doe aan coasteering. Dit laatste is uitgevonden in Wales en is een combinatie van klimmen, klifspringen en zwemmen langs de getijdelijn. Gaaf toch?
Ben je meer van de natuur? Ga dan dolfijnen of papegaaiduikers spotten. Of geniet gewoon van de prachtige kliffen en de zee. Liever de geschiedenis ontdekken? Langs de kust staan vele kastelen (of wat daar nog van over is). De Welsh moesten zich namelijk goed verdedigen tegen aanvallen vanaf de zee.
Natuurlijk kun je ook één van de vele eilandjes voor de kust van Wales bezoeken, bijvoorbeeld de eilandjes bij Mumbles (foto). Wij tippen ook The Gower, het schiereiland bij Swansea. Hier kun je prachtige wandelingen maken, zoals Penmaen. Bij deze wandeling kom je ook langs (en op) de Three Cliffs Bay, hier kun je niet anders dan van Wales en de zee houden.
Speciaal voor The Year of the Sea is er ook een korte film gemaakt:
Volvo Ocean Race
In Welshe hoofdstad wordt aan de Cardiff Bay, van 27 mei tot 10 juni, het Cardiff Race Village geopend. Op 27 mei zal de In-Port Race plaatsvinden en op 8 juni de Leg Start. De race eindigt dit jaar trouwens in onze eigen Den Haag (eind juni). Meer informatie over de race vind je op de website www.volvooceanrace.com.
Meer informatie en leuke tips over The Year of the Sea: www.visitwales.com
Er is ook een Nederlandstalige gids gemaakt door Visit Wales (klik om de pdf te openen).